Where to find maps for public transportation in Bangkok?
Public transportation is always a good choice to explore the city. It is economic, it is environment-friendly and it is easy. Well, that is if you know exactly where you are going and how to get there.
Grabbing a good map for BTS is not difficult, as they are available at the ticketing at every station, but if you want to check the information beforehand, it starts to get a bit tricky. Where can you find good and reliable maps for the main public transport networks of Bangkok? We collected the sources here.
BTS maps
The traditional BTS map that you will see everywhere is actually one of the most comprehensive maps around, as it includes also information from MRT, BRT, ARL and even the piers along Chaopraya. The official website of BTS requires the Flash plugin so you might have some problems accessing with your phone or tablet.
On your computer, try these:
If you are on the go, better visit these:
MRT maps
The website of Bangkok metro relies on Flash for some operations, including the main map. This map is kind of annoying to see, as it is too small. The only benefit from using it is the area map that you will get after you click on a station.
On your computer, use this:
On the go, better use this:
ARL maps
Airport Rail Link is rather a simple line connecting the airport with the city, but it can come handy to reach some specific locations. As the express line is closed until further notice, only the City Line is still operating, stopping everywhere along the line.
You will rarely need a map for this (probably with the one from BTS you have enough), but if you do, you can access on all your devices as the information is either an image or a PDF.
Bus maps
Getting a good map of the bus coverage of the city is close to impossible, but the website TransitBangkok have accepted the challenge and they have pretty decent maps of every bus line.
Chaopraya Express boat maps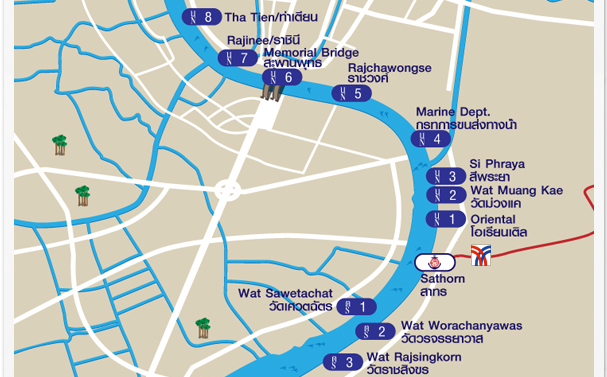 Sometimes the faster way is to get a boat. Chaopraya Express boat offer different transfer services starting at 10 Baht. Luckily, the official website is quite well managed with good maps and information.
And, of course, Google Maps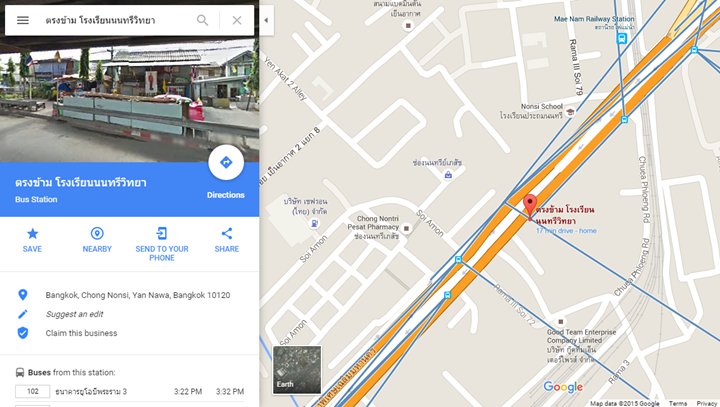 Google keeps integrating more and more information about public transport in Bangkok, saving you one or two headaches. It is still quite challenging to use (especially because of the language) but at least you can see bus stops and routes after tapping on a bus stop.
Google maps also have information about BTS, MRT and ferries on Chaopraya river, making it a very interesting all-in-one tool.
Do you know any other good map?