Thai Taxi fare calculator
Calculating the taxi fare of a journey is not an easy task. It depends on the traffic -which normally is horrible- the moment of the day, the route, the use of tolls… But you can always get an approximate rate.
We have created yet another tool for you that will give you an approximation of the taxi fare. It takes into account the distance, the time and the traffic of the most optimal route according to Google Maps.

Get the app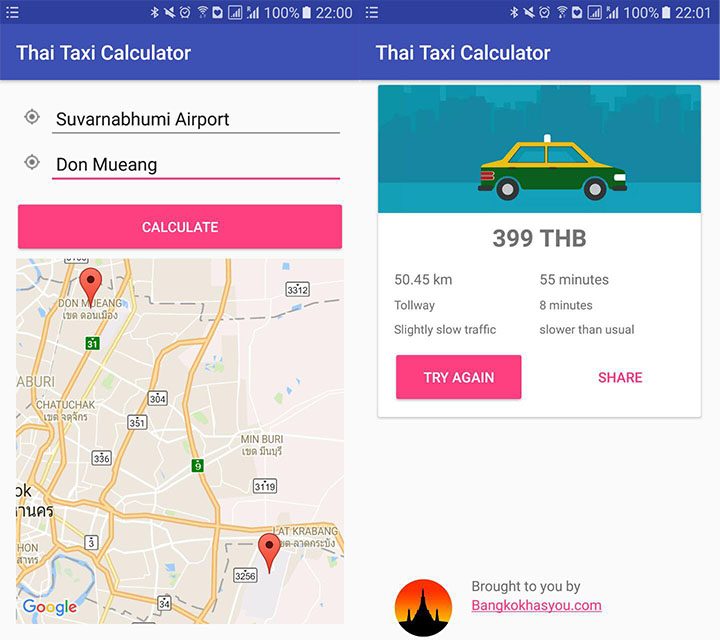 Back in 2015 when I first made this tool I chose to make the tool as a web application embedded here, but this system is not as reliable as a mobile application because of different limitations of the way it has been programmed. If you want a more handy and reliable tool, you can get our official Thai Taxi Fare Calculator application for Android.
Web version
If you don't have an Android smartphone or you don't feel like installing any app on it, you can still use this tool here. The result is not as accurate as the one on the application, but it can give you an approximate idea.
How to use it
Just start typing your departure and destination points to get some suggestions from Google. Once you are set, select what kind of traffic jam you will be expecting. It normally depends on the time of the day, being the worst time in the morning (8 – 9 AM) and in the evening (6 – 8 PM).
Click Calculate and get ready for your results. Remember that if you used radio taxi there is a surcharge of 20 THB, while the surcharge from the airport goes up to 50 THB. Also, the passenger pays the toll, which is normally around 30 – 40 THB.
Another way to get a taxi, and an estimate sometimes, is to use an app to get a taxi in Bangkok.
Did you find our tool useful? Do you think the result is accurate, too low, too high? Let us know on the comments bellow.