Burger King delivery in Bangkok: where is the menu?
If you have ever tried to order a delivery home of a whopper in Thailand you will wonder three things: How is it possible that they don't have a website, what is the phone number to call and where is the menu?
We have already answered to the second question on our previous article about fast food delivery in Thailand (short answer: call 1112) but, of course, you still need the menu to see what products are available here. Where the hell is it?
Generic menu available on social profiles
As we already told you, Burger King Thailand doesn't really have a website. They rely completely on Social Networks like their Facebook page, Pinterest, Flickr and Twitter.
So, here is the tricky thing, even they try to keep some kind of menu online, it is kind of generic, and doesn't state the price of the products. If you still want to take a look, go to the tab Menu & Delivery Zone, on their Facebook page.
It is not hidden, but just in case you cannot locate it, there is actually three different places on their facebook page that you can click to get to it.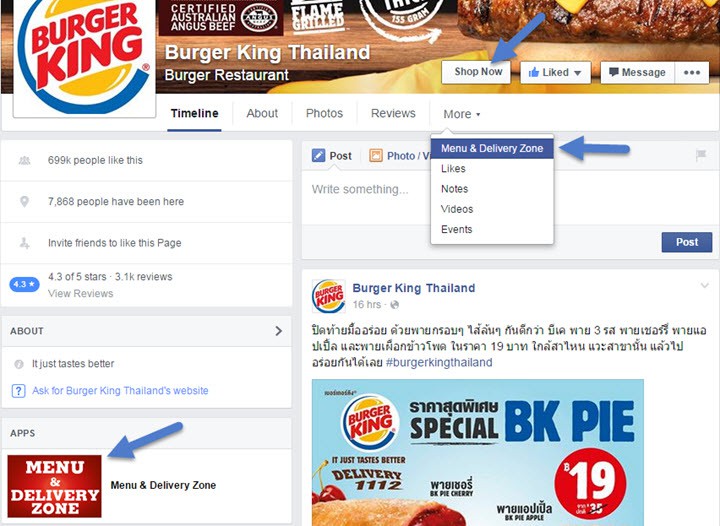 This is what you will find (click to zoom, then hit the arrows on the corner for full size)
If, for some reason, you prefer to check it out on Pinterest, they have the same images available for you on this board. However right now it is showing an older version of the menu. The photos are also available on their Flickr.
What about special promotions?
The previous menu is generic and not updated, so for special promotions and limited-time hamburgers your best chance is to ch but to check the photos they upload to Facebook, as they will include promotions and special limited-time hamburgers not present on the previous menu.
A good start is to take a look at their cover photo on Facebook, as they tend to put the hottest promotion there.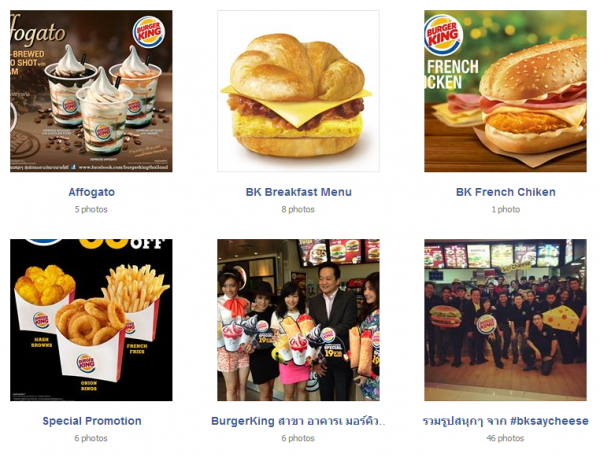 What about the delivery area?
Before you start salivating thinking about that big Whopper going to your mouth, keep in mind the delivery area is limited to some specific areas. You can check the details on this Pinterest Board or the Facebook page.
All these images were uploaded on 2013, so you cannot expect the information to be updated. Some of those franchises might not exist anymore, while new ones might have opened. In the end you will have to have the final word with the call center to see if your area is covered or not.
You are ready to go now, but keep in mind there might be some changes and special promotions. Remember to check with the operator on 1112.
As of why Burger King Thailand doesn't have a website, it remains a mystery. While McDonalds and many others have online ordering and delivery through website and apps, Burger King doesn't even have a website. What do you think?
[poll id="7″]
If you found this article useful and it brought that delicious whopper close to your mouth, use our social buttons to spread the news :-)