4 apps to get a taxi in Bangkok
Taxi is one of the easiest ways to travel around Bangkok but sometimes it won't be so easy to catch one. If you are planning a trip far away the taxi drivers nearby might not be interested. Once again, application comes to rescue.
Several apps are trying to get into Thailand market, being GrabTaxi the most successful one so far. Booking a taxi through an app is very easy: you open the app, choose your destination and wait for a driver. These are the different choices you have.
Grabtaxi
You have probably seen this sign on several taxis. It is growing fast and trying to get partnership with existing Thai taxi fleet. In Thailand, it is available in Bangkok, Pattaya, Phuket, Chiangrai. In the rest of the world you can find it in Malaysia, Philippines, Singapore, Vietnam and Indonesia. You can read our review here.
It has a surcharge of 25 THB, that you will have to add to the meter at the end of the ride. They are very active with promotions and discounts which often means no fee or even a cheaper price than the meter.
The technology on the app is quite acceptable. Probably the only difficulty you will find is choosing the origin and destination, because of the language. If you are going to a landmark or a hotel, you shouldn't have any problem.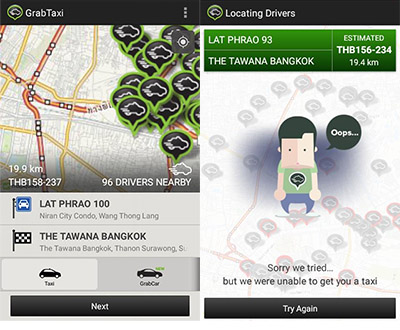 After your request, you can see on real-time how the drivers nearby deny or accept your journey. When a driver agrees, it tells you where he is and you can contact him for further details. Or he might just call you to check where you are.
Now GrabTaxi is also introducing GrabCar on Bangkok. It is basically the same, but with limo and a slightly different pricing (there is no surcharge, but the meter starts at 45 THB). You can also get a motorcycle taxi with GrabBike.
Available for Android, iPhone and BlackBerry
Easy Taxi
Easy Taxi is not as clever as GrabTaxi or Uber, but it is easy, indeed. This app is available in many countries around the world, mainly in South America and South East Asia.
It works as an app version of the traditional Taxi Call Center. You pick up your origin, destination and wait for the result. When a driver is assigned for your trip, you can check all the details or call him to offer more information.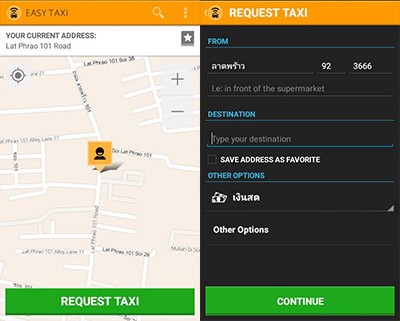 The surcharge is 20 THB, which you have to add to the meter fare at the end of the destination. Even if you don't have the app installed, you can reach the service through the web app using any browser (also mobile-friendly!)
Available for Android, iPhone, Windows Phone, Samsung Apps and web.
Uber
Uber is also available in Thailand too. For now, just in Bangkok, but you will be lucky if you can catch one of these as they are too few yet.
The price starts at 25 TH and increases 1 THB per minute and 4.5 THB per kilometer. That is sometimes slightly cheaper than normal metered taxi, but be careful because it is kind of tricky. The minimum cost per ride is 45 THB and there is also a 45 THB fee if you cancel the ride. That is for UberX, the cheapest one. UberBlack is more expensive, as you can see in Uber website.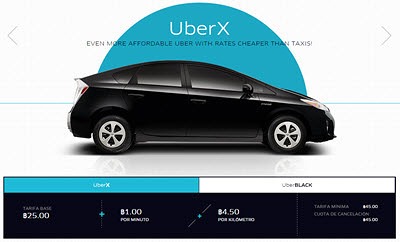 In most cases Uber will mean a more expensive ride than on a normal taxi, but in exchange you are supposed to get a better service.
One thing that you might and might not like is that you need to add your credit card details first when you create your account. The service fee is deducted automatically from your card, so you don't need to carry cash with you. That's good, but it is also kind of scary somehow.
You can get an estimation for the ride cost on the app and the website, but be aware that some routes have a fixed cost, like 1,000 THB for an airport ride.
Available for Android, iPhone and Windows Phone.
All Thai Taxi
All Thai Taxi is the uninspired name of a brand new services, just launcher in Thailand. It is still on early Beta, so don't expect it to work as smooth as others like Grab Taxi.
All Thai Taxi has its own taxi fleet and features focused on safety and features a Lady Taxi.
For now it has been launcher only on Android, but it will be available on iPhone too.
And more will come
When we first wrote this article, it featured only the main 3 apps back then. Now the list has gone up to four and it is likely that the number will continue rising. Which one is your favorite?
Check other apps to help you while in Thailand