LINE now delivers you food, groceries and parcels
LINE is a great messaging app that you will probably have to install while you are on Thailand. You can message, send photos, videos, make voice and videocalls, send cute stickers… But can it feed you? Well, as it happens, the answer is now yes.
Those who like to get stuff to their house without actually reaching out and get burned by the scorching sun now have yet a new ally: LINE MAN, the superheroe we don't deserve, but the one we need right now. This is a new service launched by LINE in Bangkok's metropolitan area which allows you to get food, groceries and parcels delivered to your house.
So, next time you need some stuff from 7-Eleven but don't really feel like actually going to the place, all you need to do is grab your mobile, install LINE MAN, choose groceries delivery, the shop and what do you want. Wait for the magic man to come back, and pay him for the service and the goods.
Unlike other apps, LINE MAN is pretty flexible with the orders. You don't really need to be very specific, as the LINE MAN himself might contact you to confirm what do you want and what will be the price. You will be charged according to the distance travelled, with fares that go from around 100 baht to get stuff from 5 km away to 250 baht to get a parcel 28 km away.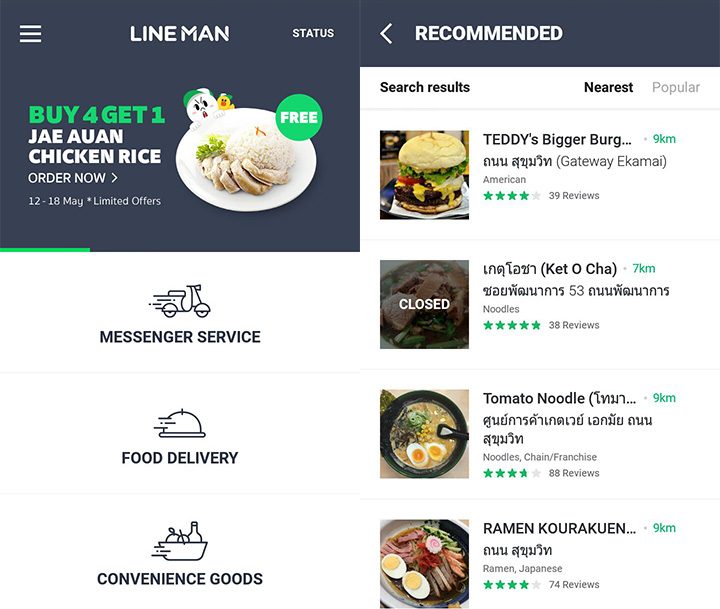 For the food delivery, LINE MAN integrates the database from Wongnai to bring you the list of restaurants nearby. However you might need to have an eagle eye to check the menu, as those are normally just a crappy mobile photos of the paper ones. In any case, you can let LINE MAN go there and tell him what you want.
What do you think of this service? Will you use it?