Rate Thai taxis with DLT Check In
Taxi is one of the most convenient ways to move around the city. Now it is not as cheap as it used to be, but it is still a pretty reasonable price for the service… Oh, the service is not that good sometimes, right?
In that cases, as we told you on our tips to get a taxi ride, you should remember the license plate and report to the call center number 1584. Well, now there is even an easier way to do it: through an app called DLT Check In.
Only for Thailand
One thing you should know is the app is currently only available on the Thai Google Play Store, meaning you cannot install it unless you have a Google Play account based on Thailand. Not a clever move that much, as it means tourists will not be able to install it. The app is translated into English, though.
You can get it here, or searching for DLT Check In on Google Play. Some taxi have a sticker on the door with a QR Code promoting the app.
Rate that taxi
So, after taking a taxi ride, either it's a good or a bad one, you have the chance to rate how did it go, and the results will go directly to the Department of Land and Transport.
The process needs a quick registration with a phone number. After that you are ready to rate, introducing either the plate number or a photo -of the plate, supposedly. If you use a photo, it doesn't do any text recognition, so it is likely that someone at the other side of the line will take a look at it and determine what is the plate for you.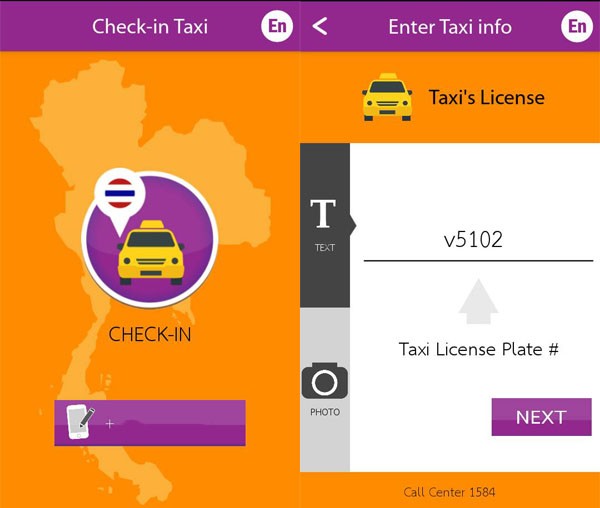 You can rate your overall satisfaction, the condition of the car, the cleanliness, the politeness, familiarity with the route and the benefit from using the app, as well as an open question where you can write anything you want.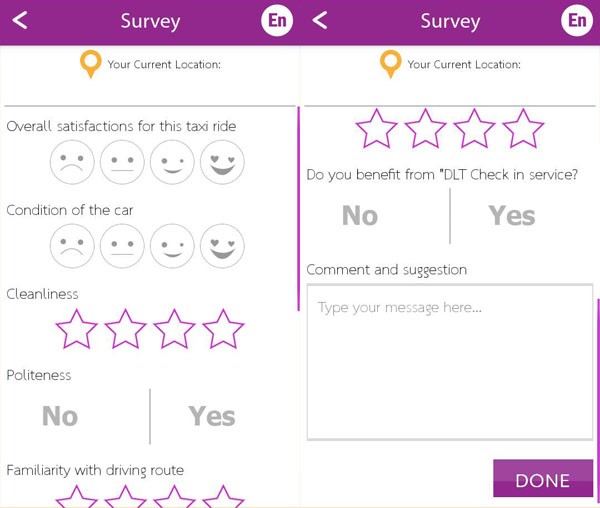 Remember your report will be sent with your mobile number, so don't over do it.
Let's see if this app and the help from the citizens will help to improve the service. What do you think about it? Have you tried it?