Review Bangkok Airways Live Chat
Recently, Bangkok Airways has just released the PG Live Chat to provide more convenience for its customers – 24 hrs/ day. This live chat will add up to the channel of communication the airline has already provided including call center 1771 and
the website
. With the live chat, passengers do not have to struggle on the phone or pay 3 baht/ min for the call center – they can just access directly to the chat.
How does it work?
First, you have to visit the airline page and look for the PG Live Chat button which is under Passenger Service section. Then when you mouse over it, you will see the drop-down menu of PG Live Chat.
After you selected the live chat, you will see the terms and conditions of the chat, which they are: the live chat is restricted in Thailand market only or the journey is from Thailand only and it doesn't deal with any kind of payment of penalty charge.
Then you have to fill in your name, last name and an email. After that select the topic you would like to ask: reservation; change reservation; information of reservation through its website and other information.
When you finished filling out everything and hit submit; the page will direct you to the chat window. There you will find information of staff who will answer your question and a greeting message from him/her.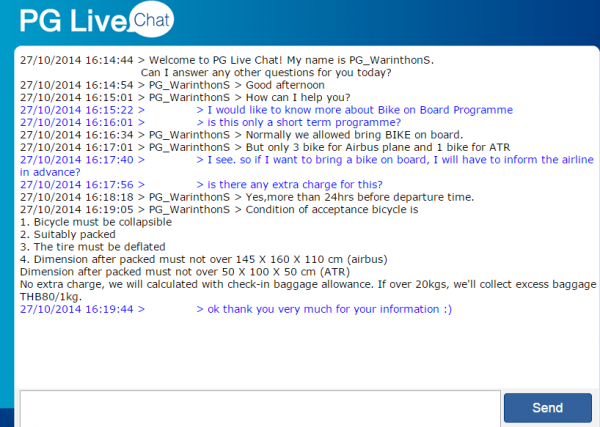 The experience
It is easy to use and the window doesn't take long to load. The staff is active and also did not take long to answer. However, I think that it will be better if Bangkok Airways will consider to separate the live chat button from the passenger service section – I think it will be easier for passengers to find it.