Thai food for newbies: Khanom Krok
When thinking about Thai food, people always assume that it will be intense and so spicy that it will totally burn all the taste buds to the ground. However, Thai cuisine is not all about peppery taste – there are more to that.
Sweets and nibbles are other kinds of aliment that Thais enjoy apart from the savory Thai dishes. Khanom Krok is one of the must-try sweetmeats. Due to its sweet taste and crunchy texture, this delicious bite will sure please everyone easily.
What is Khanom Krok?
Khanom Krok can be referred to many names from coconut-rice pancake and small coconut hot cake to coconut custard cake. But basically Khanom Krok is a Thai ancient snack that has long been popular throughout the years. The preparation and cooking process are easy, making it entertaining to cook.
What are the ingredients?
Ingredients and the process of cooking Khanom Krok are simple. The three main ingredients for this delicious coconut hot cake are rice flour, sugar, and coconut milk.
The one special thing that you need to have before preparing all the stuff is a Khanom Krok Pan. This pan is not like other kinds of pans as it has many circular holes that will act as molds for each Khanom Krok.
Why should I try it?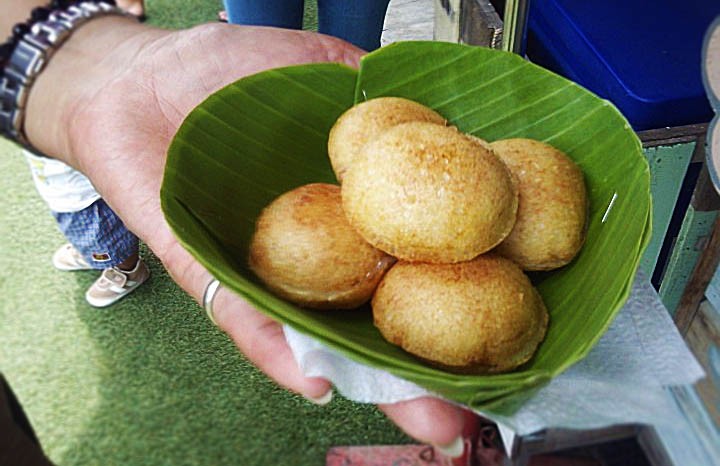 Khanom Krok offers rich taste and texture. Its coconut milk as the main ingredient makes this hot cake tastes milky yet sweet and salty at the same time. And when it combines with the texture of Khanom Krok, cooked in a hot pan creating a crispy texture… Do you need more reasons to try this amazing pancake?
How to eat it?
You can choose to enjoy this delectable dessert with coffee or tea, however you like. For Thais, they usually have Khanom Krok as their light breakfast, normally together with a hot coffee or Kafe Boran.
Khanom Krok also has many toppings to add more fun to the taste. Popular toppings that you can find in the street shop are corn, taro, parsley and pumpkin. Anyway, some of the shops can be a bit more creative with toppings like almond, red bean or sesame.
Where can I find one?
It is not that hard to find Khanom Krok because it is usually available in food courts in malls and supermarkets. However, to find a good and original one is a bit tricky. Try street shops – anywhere that seems to have locals queuing for this snack means you are at the right shop.
Tips
Try the plain Khanom Krok for the real coconut milky taste before trying it with so many toppings.
Khanom Krok is best suited with hot coffee or hot milk tea.
Cooking Khanom Krok is easy and fun – great for group activity!
Main image credit by Jack Smith