90 days notification, all you need to know and a calculator
If you are staying in Thailand for the long term, either you like it or not every 90 days you have a date… with your immigration officer. It is the 90 Day Report, a bureaucratic process which purpose is to have a periodic check-in of the whereabouts of every foreigner staying in the nation.
It is not a difficult process and luckily it is free, but if you fail to comply with this requirement you will get fined 2000 baht if you "surrender" yourself and up to 5000 otherwise. And it's not difficult for this to happen, as you are the one who have to calculate the dates and do all the work.
What is the 90 Days Report?
Thailand's 90 Days Report is a simple notification to tell Thai's immigration that you are alive and well, still staying on Thailand soil. You have the obligation to notify every 90 days by submitting a form and some hard copies of your passport.
As its sole purpose is to notify you are in the Kingdom, the required papers are easy to prepare. These are the requirements:
A completely filled and sign form TM 47 (Download)
Your original previous receipt of 90 days report, if any
Photocopy of your Passport, including pages for

your name and photo
your last visa to enter Thailand
the entry stamp
your last extension of visa
the TM.6, also known as the Departure card, normally stapled in your passport
The form itself is rather simple to fill. All you need to do is fill your name, basic information and your current address. Sign, and done.
When do I have to do this?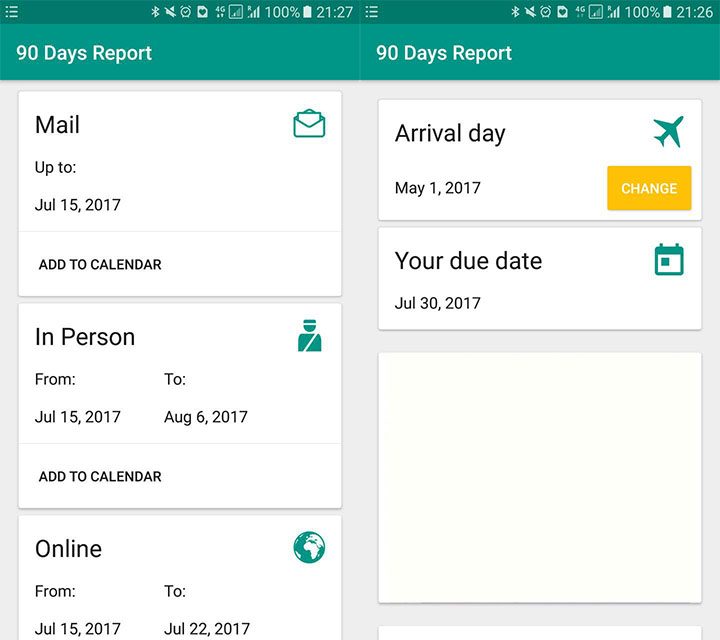 UPDATE: We have created a very simple app which will help you calculate the different dues for your 90 days report right on your Android phone. It is free, easy-to-use, don't use any battery and takes few space, so give it a try and if you have any comments about it, let us know!
It is your duty to calculate when your 90 days report is due, and that can be tricky, so I have prepared a little tool next to this text -or above, if you are on mobile- to help you. Insert your arrival time or the last time you sent the 90 days report and the system will calculate the deadlines for you. Please note that I cannot guarantee the accuracy and the tool and you should always double check the result to avoid a fine.
As it is fairly obvious, you need to make a 90 Days Report every 90 days. They start counting as soon as you step in Thailand, and they stop counting whatsoever if you ever leave. Next time you come back, they start back to zero.
However there are some complications. If you ask for a Visa extension, the first time will count as a 90 day notification, but only the first time. If you make a consecutive extension it will not have the same effect and therefore you are still on the 90 days basis.
You have to consider that the due date for the 90 days report is not fixed, but it is a range of date based on the way you choose to send the form. See more about this below on the next paragraph.
Note: Although it is called 90 Days Notification, the way the immigration office counts 90 can vary. Sometimes it is counted just adding 3 months to the date (28 July -> 28 October) but other times it is actually counted 90 days. To avoid fruitless and unnecesary fights, just don't wait till the last days to find out you missed for a day or two.
Let's see some example
Let's say you enter Thailand on 1st August with a NON-IMM visa for 3 months. At the end of your visa, in November, you ask for a one year extension and even though you have been 90 days in the country, you do not need to make the 90 days report.
You get your year-long extension on 1st November and therefore are due to make the 90 days report 3 months later, in February, in May, and in August. In November your extension is expiring and if you get another one, it doesn't count as a 90 days report, so you are also due for one.
How to do a 90 Days Report
As stated before, the 90 Days Report is a rather simple process and there are different ways to comply with the system: you can do it in person, by mail and by Internet.
1. In person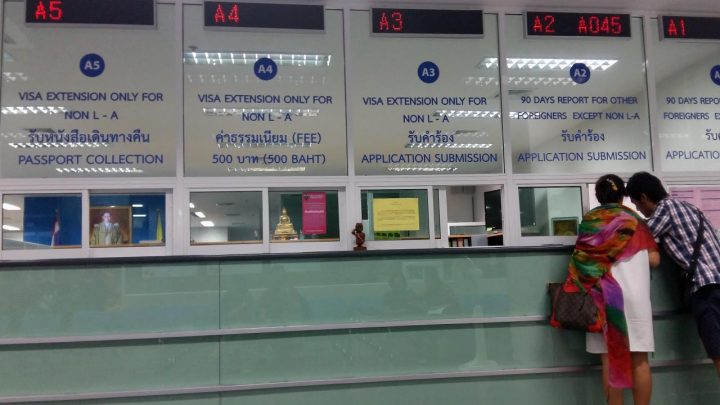 For those who like certainty there is nothing like doing the process yourself and in person. This means you have to go to the closest immigration checkpoint in the province you are residing and bring your passport, the form (you can get it there too) and, well, yourself.
You can use this option from 15 days before to 7 days after the due date. If you missed the time and are way over the week after the deadline, this is your only way to go and clear the bill, which will be a 2000 baht fine.
This method should be reserved for emergencies, as it will definitely cost you some transportation money and, more specially, your time. The queue can take hours in the good 'old Chaengwattana complex, but remember that if you are in Bangkok, you can also do this at Imperial World Ladprao and at Major Hollywood Suksawat
2. By mail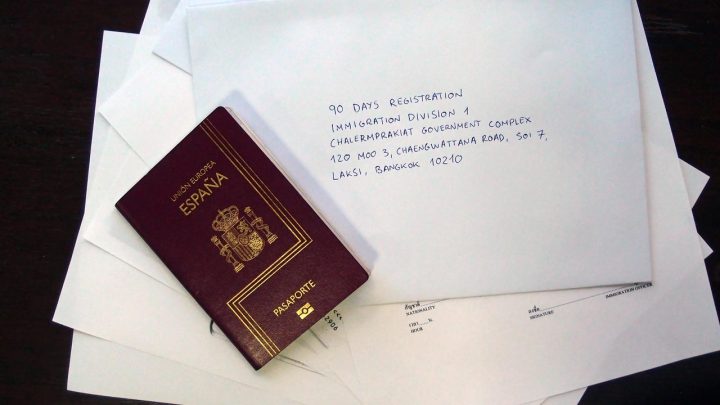 My personal favorite is the report by mail. Instead of going to the immigration office, you put all the documents inside and envelope and send it there. They will eventually process it and send the receipt back to you. It will just cost you some stamp money and two envelopes.
You can use this option up to 15 days before the due date. If you are passed that time, you can only do it in person or… by Internet.
The documents are the same as if you did it in person, but you also need to include an envelope with your address in there and a 10 baht stamp affixed, so the immigration officer can use it to send the receipt back to you. The biggest envelope must be addressed by registered mail or EMS to:
90 DAYS REGISTRATION,
IMMIGRATION DIVISION 1
Chalermprakiat Government Complex
120 MOO 3, CHAENGWATTANA ROAD,SOI 7,
LAKSI, BANGKOK. 10210
3. Online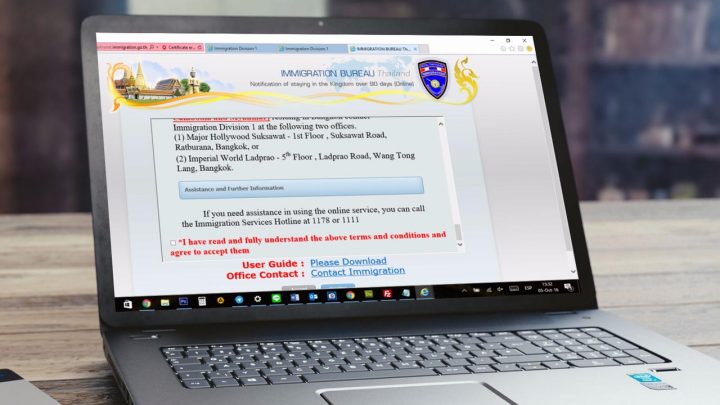 Surprisingly there is an option to do the 90 days report online, and unsurprisingly it doesn't work really well. I managed to finished the process once, but in later attempts I haven't had such luck. Basically you have to fill the form online, and wait for its approval.
You can use this option specifically during a week period starting 15 days before the due date. After that week is gone, you have to do it in person.
The website for the 90 Days Report Online only works on Internet Explorer (if you use other browser it kind of freezes) and you need to accept a security exception because of an expired certificate. Some recommendations for a better chance of success:
Don't wait till the last day to do this
Disable the AdBlocker or anything else you suspect might be interfiering
In Edge browser, use the IE compatibility mode
Save the receipt of your submission or, even better, print it. In a 7 day period you may or might not receive an e-mail telling you that your submission have been processed, so you can can go to the same website to check the results using the TR number that you got at the end of the form.
The sooner you send…
As you can see before, the due dates are kind of strict and confusing in a way, but wait, there is more. Your next appointment will be 90 days after they got your notification, instead of being based on your due. This means the sooner you send the notification, the sooner you will have to go back for more. Try to get as close to the due as possible or you will have to do it more often.
Edited 6 October: Thanks Tod Daniels for sharing his knowledge with us allowing us to improve our article
Google Play and the Google Play logo are trademarks of Google Inc.
deals