11 things you must know before traveling to Thailand
Ok, so you are getting ready to travel to the Land of the smiles, got your ticket, and lots of ideas about what to see first and where to stay. That's great. All you need now is just some little advice before the trip.
This is not an article about Dos and Dont's, but some unrelated things you should know before travelling to Thailand so you can plan accordingly and be prepared. Let's start.
1. The traffic is horrible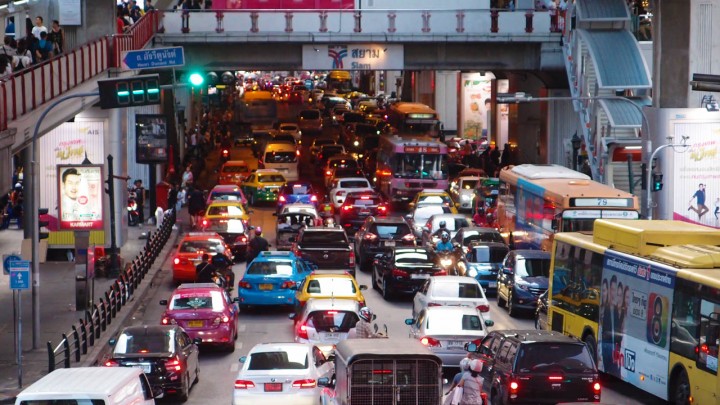 We could put it softer, but we would be lying. Traffic can be really bad in the inner city at rush hour or… almost everytime. This is something you should consider if you are thinking about renting a car or relying on taxi too much. A good option is to stay close to public transportation like BTS or MRT.
This can also affect your planning. Thinking about visiting a lot of attractions on one day, each on a corner of the city? Well, that might be too tiring and close to impossible.
2. It is hot
Ok, this one you probably know already, but if you don't travel to tropical countries before you might not be used to the concept of a hot December day. This can also affect your planning, as spending too much time outside under the burning side is quite harsh even for the toughest travellers.
Better protect yourself from the sun with some hat and sunglasses and apply suncream if you are going to take a sunbath. Sunburns are no fun.
3. There are stray dogs, and that is ok
It is fairly common to find stray dogs all across the country, and that can shock some travellers. Sometimes the dogs look dirty and scary, but you must not worry. They are usually minding their business and, even more often, taking a nap to escape the heat.
However, you must treat the dogs with the same respect as any other wild animal. Watch out for their body language and better don't interact with them unless you are very sure of what you are doing.
4. Thais drive on the left side
Unlike the neighbouring countries like Laos, Vietnam or Cambodia, Thailand drivers ride on the left side of the road. That means the driver seat is also on the opposite side (on the right) and so is the gear stick and so on.
If you are planning to rent a card, this is something to consider as it can be a bit challenging for a right-side driver. As a pedestrian, it is also important to know, so you can look ahead before crossing the road.
5. Zebra crossings are basically useless
Thailand is definitely a friendly land, but the urban planning cannot be counted as friendly for pedestrians. The sidewalks are often of bad quality, with holes, poles in the middle or just non-existent. Crossing the road can be challenging as well.
While some westerners might be used to use the zebra crossing as if the God himself is protecting them from any harm, those white stripes painted on the road are not going to help you much here. Thai drivers like to ignore their existence, so better be careful when crossing the road, with or without zebra crossing in it.
6. Mosquitoes are fierce
Thailand is a tropical country and that is a Heaven for mosquitoes and other insects. The good news is that finding mosquito repellent is very easy and if you avoid the early and late hours of the day, you can normally escape their bites.
7. There are three kinds of "subway"
Public transportation in Bangkok is quite convenient to move around the city, but you must know that they are not really connected between them as properly as it might appear on the maps.
BTS (the Skytrain, that goes over the surface), MRT (the traditional subway) and ARL (a special train connecting the airport with the city) have all different fares, tickets and rules. They have some "transfer" stations, but you have to exit one and walk to the other one, buy the ticket and so on.
8. PDA is not forbidden but it can be awkward
You are not going to prison for some little PDA, but you should control your affection in public as it can make Thai feel uncomfortable and make the whole situation very awkward.
9. Your electric appliances will probably work
When travelling abroad one of the main concerns is if you are going to be able to charge your gadgets on the local electric sockets. That is hardly a problem in Thailand, as most sockets can accommodate almost every configuration (if that doesn't include yours, it is easy to find adapters).
The electricity in Thailand is 220 volts, 50 cycles per second, so you shouldn't have any problem if you are not from Japan or USA. Even so, check your adapter specification as many of them will have an indication like "input 100-240V", meaning that they will also work here. Otherwise, better don't bring it as it will be too troublesome to make them work and they could be damaged.
10. Thai people are really that friendly
It can happen that the extreme friendly of Thai people you encounter along your path in the country of smiles make you raise your suspicion. "He is too kind to be true, must be trying to take advantage of me somehow!" Well, no, people are really just that friendly.
Yes, there will be also scammers, especially on the very touristic spots, so watch for those.
11. 7-Eleven will be your best friend
When choosing a place to stay, try to find the closest 7-Eleven to your location. Shouldn't be difficult, there are tons.
7-Eleven can be extremely handy as they have "emergency instant meals", groceries and many other services like mobile top-up, WiFi hotspots cards and, well… everything. And they are open 24 hours a day.
What other things you wish you knew before travelling to Thailand?