Venues to celebrate Songkran this year
Annually held, Songkran or Water Festival is a nationwide celebrated event. It means that anywhere you go there will be people throwing water at you and hot chics in shorts and colourful tees getting wet everywhere. Even it is a major event, there are highlight spots for this water war. Here are our picks of some of interesting venues that are popular as well as an alternative ones.
1. Khaosan Road
One of the best and crowded spots to battle in the water fight is here. Khaosan Road is very well-known among tourists and Thai teenagers as there are many guesthouses and cool restaurants around there.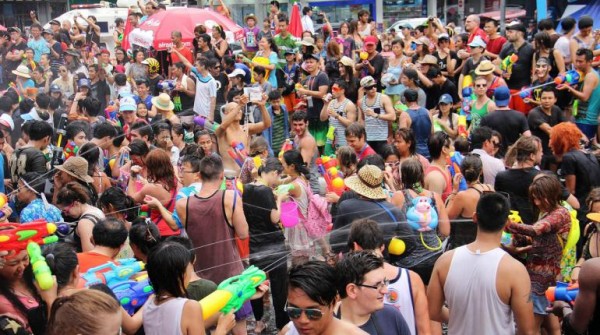 Each year on Songkran Day, Khaosan Road will be temporarily closed for the the water event so that you can stroll down the Khaosan alley to Khok Wua intersection for the great battle. The only problem is getting there. This is because Khaosan Road has no connection to BTS or MRT so you have to take a bus or a taxi to go there. We have to warn you first that the traffic will be bad around there (closed road and people on the street, you know?) so what we suggest is to rent a room around there, it is not difficult to find one (of course, if you book it in advance!).
2. Silom Road
Offering much easier way to commute to the spot, Silom Road ranks one of the tops venues for Songkran Day due to its accessibility. If you love Songkran water fight but hate the sunlight of the summer, we really recommend Silom Road.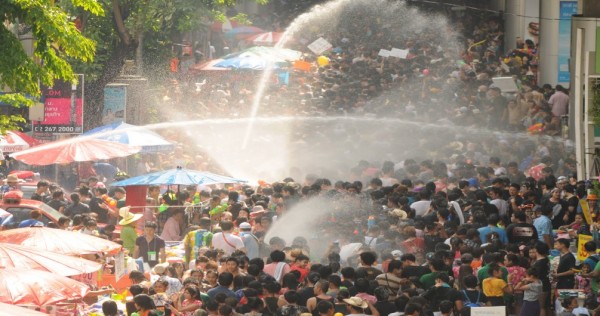 This venue offers more shades for water players to battle away the heat along the road as it is just under BTS line and skywalk. Beware of cold splash from sellers tho, yup sellers, which mean there are foods, drinks and snacks selling along the way. Sometimes, there will be fire truck participates the show, so be prepared!
 3. CentralWorld
Gained popularity recently, CentralWorld has been holding Songkran event in front the mall for some years already. One of the most interesting themes so far would be the Songkran foam party which will allow you to get intimate with the fellows.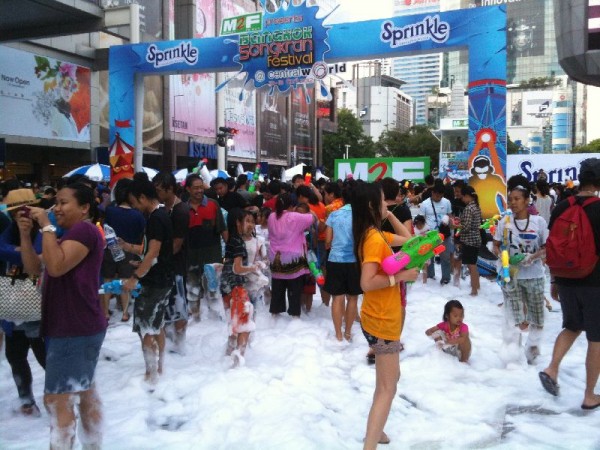 However, it depends on the mall what it will come up with the theme in each year so let's see what will it be this year.
4. Koo Mueang Moat, Chiang Mai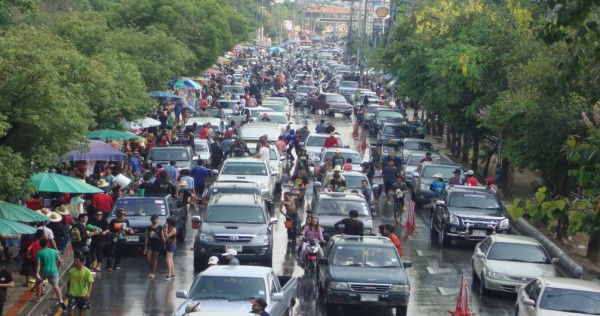 This is a not-to-miss venue for Songkran, Koo Muang Moat in Chaing Mai province. Chiang Mai province is one of the heavily celebrated Songkran venues in Thailand, especially around Koo Mueang Moat in Mueang district. It is very popular that even Thai people from Bangkok have to travel there to participate in this grand event!
5.Ancient Siam
For the last option, we would like to offer some alternative way to enjoy Songkran Day. Ancient Siam is well-known for its amazing imitated Thailand's historical structures. What makes it special is you can enjoy water fight while learning history. The attraction holds Songkran Celebration every year where their staff will be dressing in Thai local outfits and participate in the festival with you – it is fun and enjoyable.
There are our recommended choices this year, what about you? What is your favourite place for Songkran Festival?