WiFi Hotspots in Thailand: list of prices and options
Wherever you go, there will be a WiFi Hotspot. You will recognize them on your Wireless connection list for the @ in front of their name, like @TrueWifi, @3BBWifi or similar. They are actually a very affordable and convenient way to get Internet on the way.
But with so many providers and options, you might find difficult actually choosing one. We have narrowed down the list for you. Check here the best options, compare the prices and get online right now.
The different providers
Depending on the area you are located, there might be some others, but these are the main ones that you won't find difficult to locate near shops, restaurants, malls or even bus stops.
TrueWiFi
TrueWifi, by True has one of the most extensive network of WiFi hotspot. They are absolutely everywhere, as you can check on the map.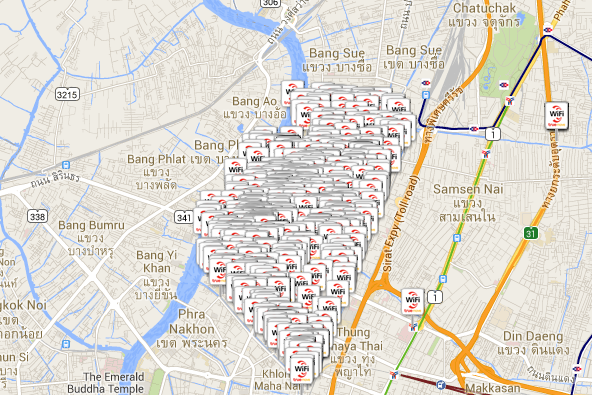 You can buy it right online here, with different options from 7 hours to 5 months, but can also buy a prepaid card on 7-Eleven. I have personally used this one for quite a while and it normally works efficiently and fast.
3BB Wifi / AIS
WiFi Hotspots from 3BB seems to have merged somehow with those from AIS. It makes it actually hard for you to get the service if you are neither a 3BB or AIS user, but, with enough patience, you can make it. You have plenty of information here about the different ways you have to do so: from ATM machines to prepaid cards.

It is indeed kind of confusing, so I would only recommend you to get this service if it is the only hotspot you can find in the places you usually visit. You can also buy it online after login in into the hotspot, but beware: it might not load the website of your bank needed to complete the online payment.
CAT Wifi
These hotspots are not so massive like the previous ones, but you can still find them in places like McDonalds. The information online about the service is very few, so your best chance if you are interested is to try to get it once you are already connected to the hotspot.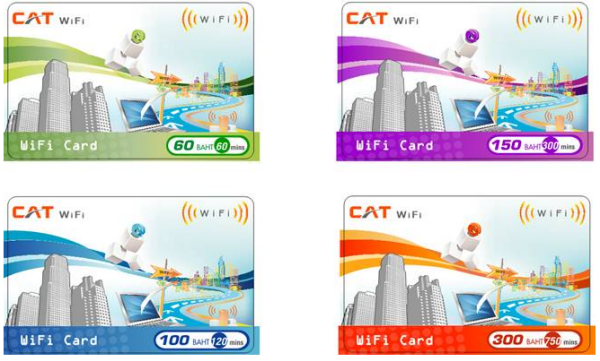 They also seem to have prepaid cards starting at 60 THB for 1 hour. A little overpriced when compared with other options.
DTAC Wifi
Hotspots from DTAC are widely available, specially on malls across the city, and are quite convenient for those who are already using DTAC on their mobile. Signing up is as easy as dialing a number on your phone.
In fact, according to their FAQ, you need to be a DTAC user to activate the service, but once you already have your user and password, nothing stops you from using it across any other device.
KSC Hotspot
These hotspots you will likely not find them anywhere but on Starbucks. You can conveniently buy online any of the 3 options available: 2 hours, 1 day or 1 month. If you have a Boingo account, you can also use it here.

I wouldn't recommend it unless you are really attached to Starbucks.
Let's compare them
If we put all we know so far into a table, it will look like this:
| | | | | | |
| --- | --- | --- | --- | --- | --- |
| | True | 3BB / AIS | CAT | DTAC | KSC |
| Prepaid card | Yes | Yes | Yes | No | No |
| Buy online | Yes | Yes, from the hotspot | Yes, from the hotspot | No, only with DTAC phone | Yes |
| Where are they? | Everywhere | Quite extended | McDonalds and few other places | Malls | Starbucks mainly |
| 1 hour | – | 9 THB | 60 THB | 19 THB | – |
| 1 day | 90 THB | 29 THB | – | 39 THB | 150 THB |
| 1 month | 300 THB | 99 THB | – | 69 THB | 300 THB |
Now you have the information. Which one do you prefer? My suggestion is to be aware of what hotspots are available on the places you normally go and try them first for a few hours, just to know how they are working and if they are stable enough.
Share your experiences with us on the comments!